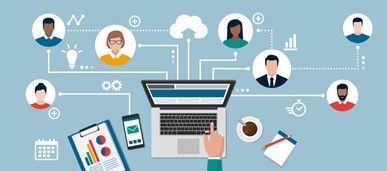 Leadership in COVID-19 time is more important than ever!
While it was unusual to attend the Health and Safety Review Conference online this year, we certainly agreed strongly with the central theme of the event this year – safety leadership is more important than ever.  The event theme focused on the challenges of working during the current pandemic and how it is essential for leaders within an organisation to maintain a positive safety culture. These are indeed strange times for many organisations. Many employees continue to work under infection prevention regimes, while many others work from home, physically isolated from the normal workplace environment and their colleagues. We should not forget people in certain more affected sectors who are concerned about their future as employers face continuing commercial uncertainty.
During the conference Neil Lenehan, HSQE Manager for Irish Water, delivered a presentation on implementing an effective H&S strategy, and provided an insight into the Irish Water journey in safety and the importance of vision, strategy and leadership during the COVID-19 era. Irish Water's 'Work Safe Home Safe' framework is based on 5 key pillars to building a safety culture within an organisation:
Leadership and safety culture
Safe workplaces
Safe ways of working
Safe delivery partners
Health and wellbeing
These pillars facilitated the organisation to navigate through their COVID-19 journey and the obstacles of the new homeworking situation. When Neil was asked by a participant how an organisation can ensure people will continue to be motivated when working from home, he outlined how an employee's mental health as the leading concern. He recommended engagement with workers through increased social contact, and not just to discuss work but to simply ask your employees "how are you?".  
This simple message certainly resonated with us in relation to our own team, who like many have effectively been working from home since early March. While large organisations can have teams, plans and programmes to address safety, mental health and well being for employees, it is key for leaders at all levels, and in organisations and teams of all sizes, to do the small, simple things that will make a difference. This can be as simple as a regular call from a team lead to have a chat and see how things are going and listen to the employee's concerns. Across organisations there will be a wide range of home circumstances in which employees find themselves. Homeworking for a prolonged period can lead to a sense of isolation or loneliness in employees. There is mounting evidence that there is a drop in the mental and physical health of employees as a whole from prolonged home working.
A duty of care of exists on employers to ensure their employees' 'place of work' is safe and suitable. A good approach to monitoring an employees' health and safety at home is through a homeworking assessment. The assessment considers both the working environment and work equipment. It examines posture and behaviours to mitigate musculoskeletal discomfort and strain. Employees appreciate the assessments, and it is a clear statement that an employer wants to ensure employees are comfortable and well setup for working at home.
Leadership is about setting people up for success. Employees need the physical tools for effective and productive home working, but they also need an environment that is supportive, where leaders display empathy and where there are supports available when required. Engaging with employees, ensuring that the remote working situation is not negatively impacting their health and wellbeing is a proactive and positive step in the duty of care for employees – it will reap due reward.
During these uncertain times, communication, engagement, and visual commitment in safety leadership is more important than ever. We are working with employers to provide support for their employees in this COVID-19 era and you would like to talk about safety leadership, homeworking assessments or ergonomic programmes please contact the CMSE Consultancy team.
Chat to us instantly by clicking the chat box in the bottom right-hand corner of your screen. Alternatively, you can click here to email info@cmse.ie
---
You may also be interested in: