CMSE has conducted the following poll through LinkedIn, which generated some interesting results. Respondent's were invited to select one of the following statements
Our Company has a Safety Management process because we want to: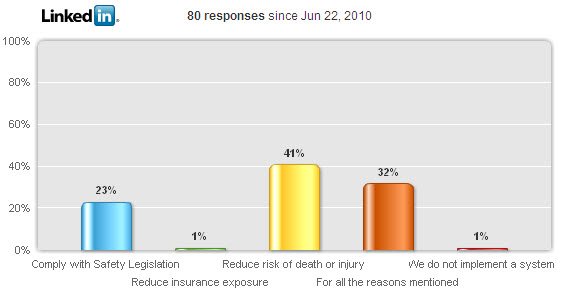 1 Reduce risk of death or injury
2 Comply with safety legislation
3 Reduce insurance exposure
4 For all the reasons mentioned
5 We do not implement a system
42% of respondents chose to reduce risk of death and injury as a key reason to implement a safety management process, while 32% felt it was for all reasons 1-3. The desire to comply with safety legislation was selected by 22%c of respondent's as the primary reason to for their safety management process. These results indicate that although legislation is a key driver in implementing an effective safety management process the basic personal safety of staff is the primary motivation in our poll.
For more information on how to implement a safety management system in your company please contact us info@cmse.ie or 1890 315 415