Scientists claim that 2020 could see the largest drop in global Carbon dioxide emissions since World War II.
With commuters being urged to stay at home and economies in a virtual standstill, the air quality in cities has also improved.
Dr Clare Noone, climate scientist at NUI Galway notes how the air we breathe has a significant impact on our health and how the and how the importance has been highlighted through the current crisis.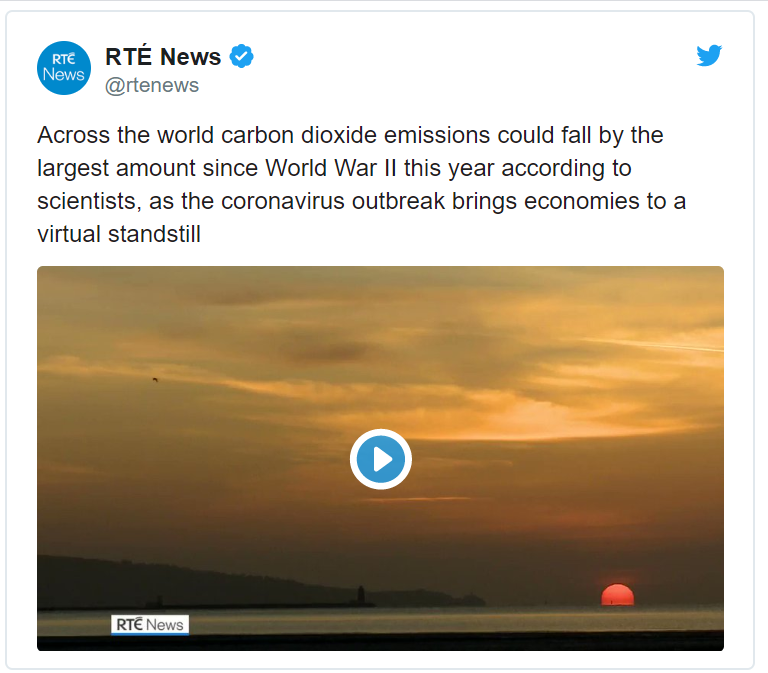 "Satellite data from NASA and the European Space Agency during this pandemic has detected significant decreases in nitrogen dioxide, a gas emitted by vehicles, power plants and industrial emissions across the globe," Noone said.
Rob Jackson, the Global Carbon Project Chair at Stanford University says that "If the economy stays slow, if transport stays down, we could see a drop in carbon dioxide emissions this year of five percent or more,"
Irish scientist Roisin Commane is an Assistant Professor in Earth and Environmental Sciences at Columbia University has been measuring CO2 in New York since the start of the year and has noted how surprising it has been to see how much of a reduction in CO2 has occurred.
Commane notes "..by all accounts, it's the cleanest CO that they've got on their records available online." but goes on to say that unless a decision is made to do something different when things get back to normal, the respite may only be temporary.
Chris Mee Group are Ireland and the UK's leading provider of environmental related Training & Consultancy services. If you have any questions regarding Carbon dioxide emissions please do not hesitate to contact one of our experienced Consultants by starting a chat on the bottom right hand side of the screen.
Click Here for Answers to common Climate Change FAQs
___________________
Source: https://www.rte.ie/news/coronavirus/2020/0415/1130647-coronavirus-emissions-environment/