The "Return To Work Safety Protocol", a collaborative effort by the Government, unions and employers is in now place to underpin workers' safety as staff migrate back to workplaces.
The Protocol sets out very clear terms for employers and explains the State's guidance on essential measures to contain the virus as the economy begins to reopen and continues to operate.
---
Here's a brief intro on what you need to know;
1. Lead worker representatives
Each workplace must nominate at least one (or more depending on the company size) "lead worker representative" to work with the company's Covid-19 response management team in ensuring safety measures are being followed. This Representative must receive necessary training to carry out the role.
2. Company Covid-19 response plans
The lead worker representative will help roll out your companies Covid-19 response plan. Companies that already have a plan in place will be required to revise and update it where necessary before employees can return to site.
3. Responding to suspected Covid-19 cases
Protocols for dealing with suspected Covid-19 cases among staff must be prepared for all companies.
4. Sick leave and flexibility
Sick-leave policies, will need to be reviewed and amended by the employer as appropriate before returning to the workplace.
5. Prioritising at-risk employees
If at all possible, at-risk workers should be told to work from home.
A strict "no-handshake policy" must be implemented.
Physical distancing of two metres is recommended between all people on site at all times.
Companies must provide hygiene facilities, and advice and training on correct hygiene procedures such as hand washing and respiratory hygiene.
Want me information on these points? Our experienced Health & Safety Team are here and happy to help!
You can call us at 1850 315 415, Email us at info@cmse.ie or chat to us via the button in the bottom corner of the screen.
---
Similar Topics: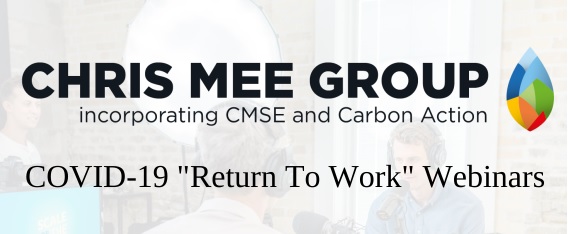 The Free, 30 minute "Return to Work" Webinar can be booked

Here
The 2-3 hour, In-depth COVID-19 Return to Work Webinar can be booked Here
---
Company Return to Work Inductions
We provide FREE general inductions. We also provide company-specific courses and facilitate detailed training records Learn More
More "Return to Work" Services
We provide "Return to Work" Staffing, consultancy support, administration support Learn More