This course is designed to meet the requirements for training laid out in the International Ship and Port Facility Security Code (ISPS Code) and the guidance laid out in the SOLAS Regulations 1974.
Private: This course is only available as a private course. Contact us on 1850 315 415 or email info@occupli.com for more details.
Duration: 1 Day
Assessment: A pre and post graded multiple choice questionnaire will be presented to candidates
Accreditation: STCW Security Awareness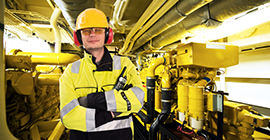 Course Objectives
To provide knowledge to those who may be designated to perform the duties and/or hold the responsibilities of Basic Ship Security.
Target Audience
Sea farers with a responsibility to respond to a security situation onboard a ship.
Course Contents
ISPS Code background and introduction
Maritime security threats
ISPS duties and responsibilities
Maritime security levels
The ship security assessment
The ship security plan
Security verification and certification
Interaction with vessels, authorities and ports
Training, drills and exercises
Suspicious persons and behaviour and circumvention of security
Weapons and explosives
Practical protective measures and contingency planning
Documents, records, communications and confidentiality
Specialist counter piracy non-lethal acoustic equipment training

Can't find what you're looking for?
Sign up to get our Newsletter!