Personal Safety & Social Responsibility
This Personal Safety & Social Responsibility (PSSR) private course forms part of the mandatory basic safety training for all sea farers. Sea farers which are assigned safety or pollution prevention duties. Designed to give you a basic induction in safety procedures and accident prevention. As well as to familiarise you with the working environment on board merchant vessels.
On meeting the minimum standard of competence in Personal Safety and Social Responsibilities you will understand different types of emergencies that can happen on board. Furthermore, the appropriate actions to take.  This course will also help you to be able to recognise emergency signals. As well as understanding the use of safety equipment. You will recognise the values of drills and training. You will understand the importance of working safely. It also covers the essential communication issues of understanding orders.  As well as maintaining effective human relations and communication aboard ship.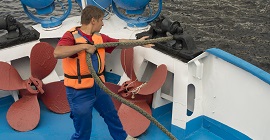 Safety Consultancy Brochure
Scheduled Dates
Scheduled Courses: This course is available to private groups.This courses can be targeted towards your own companies needs. To arrange a date for your company to please call 1850 315 415.  Alternatively, you can fill in the form below. Our Training team will be in touch.
Course Objectives
Its objectives are to give basic induction training in safety procedures and accident prevention. As well as familiarising people with the employment conditions and working environment on board vessels.
Target Audience
New recruits and prospective sea farers. Also people who wish to gain a better knowledge of ships working before they board a ship.
Course Contents
Complying with emergency procedures
Taking precautions to prevent pollution of the marine environment
Observing safe working practices
Understanding orders and being understood in relation to shipboard duties
Contributing to effective human relationship on board ship

Can't find what you're looking for?
Sign up to get our Newsletter!