Breathing Apparatus Courses
Occupli is a leading provider of breathing apparatus training in Ireland.  We train people in various different breathing apparatus. These include Saber Centurion, Draeger and more.  The function of our breathing apparatus training is to make sure that the user is competent in the safe and effective use of same. These courses are most suited for marine and industrial teams.
Breathing apparatus allows the trained wearer to breathe in an atmosphere that would not otherwise support life. Therefore, the quality of the training is very important. Our two day course is suitable for anyone who is required to wear breathing apparatus equipment.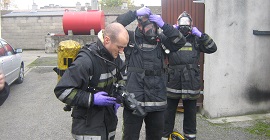 Scheduled Course Venues and Dates
This course is available exclusively to private groups.This allows courses to be targeted specifically towards your own companies requirements. To arrange a date for your company to host this course please call 1850 315 415 or fill in the form below and one of our Training team will be in touch.
Participants: Up to 10 personnel
Duration: 2 days
Assessment: MCQ Test
Certification: Occupli Training Certification
Who Is This Course Intended For?
Anyone who has to wear a Breathing Apparatus (BA) set in any industry.
Course Objectives
Participants should be able to carry out the following. As a result of this course:
handle breathing apparatus (BA)
properly fit BA
test BA
properly fit face mask
Course Programme
Description of Breathing Apparatus Set
Correct Procedures for Cylinder Connection to Set
Carrying out of High & Low Pressure Tests on Set
Donning and Removal of Set – Individual Practice
Entry Control Procedures / Calculations Litres per minute
Safety Checks including check for Positive Pressure
Use of the Bypass
Warning Whistle Activation
Gauge Readings

Can't find what you're looking for?
Sign up to get our Newsletter!