Explosion Protection Documents (EPD)
S.I. 299 of 2007 transposes into Irish Law a European Directive called the ATEX directive No.1999/92/EC and is concerned with the risks from fire and explosion arising from flammable substances stored or used in the workplace.
The regulations apply to most workplaces where flammable substances are stored or used for example where flammable liquids or flammable dusts are present.
By law, a risk assessment must be carried out for any work activities involving flammable substances.
The findings of the risk assessment must be recorded in the document called the Explosion Protection Document. The Explosion Protection Document must exist as an identifiable document. The document must be available to employees.
Our Process Safety consultants at Chris Mee Group will perform the mentioned risk assessments, they will classify the hazardous area of the site and will prepare the Explosion Protection Document as a result. This document will include:
Those areas of the site where there is an explosion hazard;
The substances and their properties that present an explosion hazard;
Selection and use of equipment in explosive atmospheres including Certification or calibration documentation;
Explosion risk assessments;
Those places that have been classified into hazardous zones;
The technical measures to both prevent an explosion and to mitigate the effects should one occur;
Operation of early warning devices;
The organizational measures to protect against explosions including training, instruction, operational procedures, supervision, maintenance, operation of permits to work, co-ordination between employers;
Marking of areas;
Means of escape;
EPD periodic review.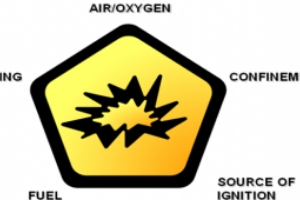 Safety Consultancy Brochure
Did you know that Occupli also offer ATEX Explosion safety consultancy?